Laptop, Notebook & Desktop Computer Repair
At ExpatTech we offer a full range of laptop, notebook, netbook and desktop computer repair related services and solutions. You've probably found this site if you have experienced an issue with your computer. If you're looking for efficient and comprehensive laptop and desktop computer repair services in the Budapest area or in Hungary, please don't hesitate to contact us for further information. Call our office on (06-1) 215 1143 or send us an email and we'll do our best to help you straight away.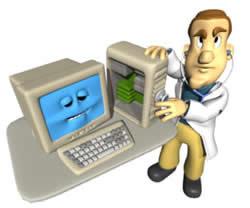 In today's modern world computers have become such a part of everyday life, it is hard to imagine functioning without your laptop on the go or your desktop computer at home. And when something goes wrong with your notebook or desktop computer, you definitely want to get that fixed as soon as possible. That's where ExpatTech comes in! By virtue of the fact that we have several technicians in our company, we can often provide same day repairs for your laptop or desktop computer, or as soon as parts are available should they be required.
Fill out our laptop repair form and get help and/or a price quote now:
Free Diagnosis - Reasonable Rates
One of the main differences between ExpatTech and the bigger computer repair companies is that we offer free diagnosis of the problem with your computer. In general our policy is that you only need to pay for the repair and parts required for it, we do not have any automatic or minimum charges just for looking at your laptop or desktop.
There are some exceptions to this rule, if a computer needs to be completely taken apart, or several hours spent on it, we need to charge something to cover our time spent. In general we only charge half to one hours worth of work for these cases, and at our hourly rate of 6,000 HUF, this means 3,000 - 6,000 HUF. This is particularly true if the customer decides not to pay for a repair, in general we will not charge anything if the client goes ahead with having their computer fixed.
Laptop or Notebook Computer Repair
Laptops and Notebooks are designed to be portable, and as such are put together in an entirely different way to desktop computers. Desktop computers are very modular, and all feature expansion ports for separate components such as video cards, sound cards, network cards, have power supplies in separate boxes, and the motherboard is a separate item. With laptop and notebook computers (and in particular with the new generation of mini-notebooks or "Netbooks") almost all of these items are integrated onto the motherboard, and the power supply from your charger is plugged into a DC in-jack that is soldered onto the motherboard. In general only the high end and expensive laptops and notebooks offer slots for separate video cards.

What this all means for notebook and laptop repair is that while the issue itself may be relatively simple to fix, actually getting to the area where the problem is located can be difficult and mean taking the entire computer apart. With a desktop computer if the power supply fails you drop another one in, where if your DC in-jack is broken this means you have to take the notebook completely apart, remove all the components and the motherboard, de-solder the current DC in-jack from the laptop's motherboard, and solder on the new one.
Below is a list of some of the most common issues that can affect your laptop. The technicians at ExpatTech have had a wide variety of experience with all of these issues in a range of computers, and can repair your laptop or notebook for you with any of these problems.
Computer won't boot up
Computer overheating, even shutting down
Hard drive failure
Memory (RAM) failure
Motherboard failure
Defective or broken charger/adapter
Broken or poorly contacting DC in-jack
Malfunctioning or broken ventilator/fan
Dim, dark or cracked LCD screen
Broken hinges on the LCD assembly
Individual keys or keyboard not working
Built in mouse or touchpad malfunctioning
Trojan, Virus, Rootkit or other malware infection
Desktop Computer Repair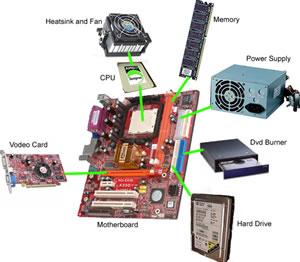 Desktop computers, as mentioned above, are in general very modular, and due to the amount of space inside the desktop tower, are usually a lot easier to access for any necessary hardware repairs. Individual components such as sound cards, video cards, and power supply units are easily removed and replaced if faulty.
Of course desktop computers suffer from the same sort of problems as laptop computers, the most common being hard drive failure as this is a constantly moving part. In addition the power supply, being built in to the computer instead of an external adapter as for notebook computers, is often a part that breaks down or fails.
In any case, whatever the problem is, ExpatTech can help you get your desktop computer up and running again. We have our own keyboards and monitors and power cables, so all you need to bring in is the tower or case of your desktop computer.
Apple Macintosh (Mac) Computer Repairs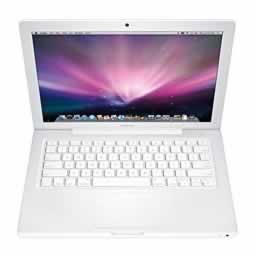 There are certainly differences between Apple's line of Macintosh computers and PC's on the market such as notebooks and computers by Dell, Hewlett-Packard (HP) and Compaq, Lenovo, Toshiba, Acer, ASUS, Clevo, Fujitsu-Siemens and many others, but they also share some important similarities. Both types of computer utilize components from third party manufacturers, and then brand the actual laptop or desktop computer as their own. The same hard drives and memory function in Mac's as in PC's, and are subject to the same problems and fail in the same way. The same goes for the LCD screens, fans and ventilators and other miscellaneous parts that can break down in your computer. And ever since Apple has started to use Intel processors in their computers, with a simple utility you can even run Windows in parallel to Apple's OSX for Macintosh. This has narrowed the differences between the two even further.
The main difference is in the architecture and operating system for the Macintosh. And fortunately, one of the technician's at ExpatTech uses Apple Macs (having both an Intel based MacBook Pro and a PowerPC iBook at home), so is familiar with Apple's OSX operating system. ExpatTech also has access to an internet based library of very comprehensive Mac assembly and disassembly guides, and with the help of these replacing even the most tricky components is possible. So if you have a problem with your G3, G4, PowerBook, iBook, MacBook or MacBook Pro, Mac Mini or iMac then don't hesitate to get in touch with ExpatTech!
Onsite Hardware Repairs in Budapest, Hungary, & Eastern Europe
ExpatTech also offers onsite hardware repair services. If you prefer to have your server or workstations repaired in your company's own secure enviornment or if bringing the machines to us is simply too much trouble, then we can dispatch a qualified technician to any location in Eastern Europe. We help support many companies in this way. To learn more, please see our regional support partner page.